ROAD RUNS
A collection of ride reports and photos from SoCal AMCA runs across Southern California.
2019 SoCal AMCA Borrego Springs Road Run
February 28 - March 3, 2019 -
Headquartered at the Borrego Springs Resort. Two and a half days of riding in the beautiful Anza-Borrego Desert. Wildflowers are blooming. Wednesday: Early bird ride to Salton Sea (30 miles) and then down to the Marina Cafe for lunch. Thursday: Registration officially opens, explore Borrego Springs. Friday: To Julia, the Menghini Winery, Julian Pie Shop, Lake Henshaw Round Up Cafe. Riding through Santa Ysabella and Montezuma Valley. Saturday: Ride through the desert to Ocotillo and lunch at Canebrake Community Center.
Here are some of our traditional photo op shots…dressed in our theme of the year: Disco. :)
2018 Joshua Tree Run
April 6-8, 2018 - Report by Craig Dillmann, Ride Captain. Well, the Joshua Tree trip is now one for the history books. A smaller crowd this year but a great ride with even greater weather! Some of the bikes had a few issues. On the Friday ride to the highend bar and grille the Palms, Mark Leiss' beautiful 1926 Scout gave up the ghost and seized up almost in front of the bar. I always love going in there; a cast of characters every time. One guy walked in the guy only had four teeth and one of them he got when he joined the Elks!! After two rounds the group headed back to the lovely Rancho Dolores. Dinner was at the Rib House and was great. The next morning the group including Lon Bubeck, Dr Phil, Mark Leiss, Jaguar Steve Sales, and Rich Hutchens riding his beloved grandpa's bike. Since Mark's bike didn't run, we kind of shared bikes taking turns in the trouble truck piloted by Kelli and copilots Diana Shore and Sharon Hutchens. The next breakdown was on the way back at the visitor center. Dr Phil's Yamaha was dead. The good doctor spotted the problem immediately a broken battery wire. After some tinkering the problem was fixed …or was it? Tthe bike fired up but as soon as a Phil hopped on the seat. Same thing only a burnt wire. He got to ride in the trouble truck back to the hotel. That afternoon, the trouble was discovered: the rubber cap wasn't put on the lead when the seat was sat on. Wham short…The problem was fixed at the hotel and the bike ran perfectly for the remainder of the trip. Dinner was at the Mexican restaurant. All I can say is on first glance at the restaurant, it looked like a drinking club with a motorcycle problem!! See everyone again next year.
2018 SoCal AMCA Borrego Springs Winter Road Run
2017 Santa Monica Mountains Run. Co-sponsored by the SoCal AMCA and the Los Angeles AMCA
Aug. 12, 2017 - Report by Craig Dillmann, Ride Captain. The Santa Monica ride is one for the history books!The ride has been going on for over two and a half decades.This year we changed up the route a little bit going through Old Topanga Canyon on the way to Malibu and on the return trip we crused Mulholland Drive all the way to the Rock Store ..Lunch was the usual Spruzzos Italian resturant at Zuma Beach always good food…There were about twelve bikes no breakdowns nice weather a good time was had by all .Grace got the long distance award coming down from the mountains ..I was on my trusty Triumph TR6 going through some very twisty sections glanced behind me and Grace was right on my ass with that big heavy bike..She handled her bike better than a twenty year old!!Rodger Herbeson came down from Oaji on his trusty Indian.Tom Hart rode his Indian in from Orange County..Mike M from Simi on his recently purchased Harley Sportster Jaguire Steve on a Trident..Matthew Freed on his vintage Honda.A few others I apoliogize I was so buzy I didn't get their names but I remember the bikes! A beautiful 1956 BMW and a 40s PanheaddyAnd a Shoverhead rounded out the group
2017 SoCal AMCA Winter Road Run
Photos form the run can be found here.
March 2-5, 2017. Report from Tom Hart:
This year we had around 75 to 80 riders at Borrego with 117 at the banquet. The pre and on-site registrations totaled nearly $13,000.00. That number also includes income from the 50/50 raffle, t-shirt sales and a few generous members who donated, or waived a payback for club expenses, Jim Ferguson $100.00 and Ron Stevens and a few other members. Brain fade, Mr. Daniels and a very crowded calendar inhibit me from recalling all of your names at this time, but you'all know who you are...thank you very much, again. Anyway the expenses came to almost $11,000.00 not including my honorarium, which by the way I am getting a little tired of waiting for. Our goal is to break even, or maybe a
little over to help keep the registration costs within reason and to avoid the taxman who says we can't have an income. As always, I'm more than willing to accept any and all cash overflows to help out as much as possible. I'm also willing to use my accounts in the Caymans to hide any overflow revenue. Whatever works best for the club... because I'm a giver.
Borrego was huge success this year once more. Beautiful weather and beautiful people getting together to spread joy and wellbeing to their fellow man. Remember Mr. Daniels from the above paragraph? Well, he's back! Actually I gave up "alkihall" for Lent and now my brain cells are rebelling like nobody's business. I did however celebrate Fat Tuesday like a true "Nawlins street thug". But I digress.
We were fortunate this year to avoid any serious mishaps no thanks to a few rebels (Frank Colver, Steve Cortsey, Ron Stevens and Rich McMacken). Even Madden behaved himself and didn't run anyone off the road this year. Where to start, where to start? Let's start with Rich. His was a minor mishap which did give me a chance to see the far side of the Salton Sea when he got a flat tire 75 miles from home base. Rich, John Stanley and few souls make an annual pilgrimage around the Sea on the Wednesday before the official ride begins. I actually enjoyed the 150 mile round trip in the trouble truck to pick him up because I had not been there in many years, if ever. Rich is another one of those guys who gave back to the funds by buying his own gas for the trouble truck use. This is normally a club expense. Now let me fast forward to Saturday night in Borrego and beat up on Frank Colver who will forever be hounded his new theme song "Roll over
Beethoven, tell Tchaikovsky the news". Apparently Frankie left the banquet and headed back to his digs in Canebrake way past his bedtime. Somehow he drifted off the highway just enough for his trailer to dig into the soft sand and flip over with his Zero dirt bike on board. The truck stayed upright with no damage except for an offensive smell from the driver's seat. The trailer was not damaged that much either except for severed safety cables. Even the bike was not too damaged. It is a dirt bike after all. Tim Graber and Tom Lovejoy were called into action to help Frankie right his trailer and get him to his bed. I'm guessing after a shower. Karma Frank, Karma. You should have let me use your trailer earlier and this would not have happened. And in case you're wondering, there is no truth in the rumor that I was playing with a toy truck and trailer in what might resemble a voodoo ritual outside my room at the exact time your mishap occurred. I don't believe in such things and you shouldn't either.
Let's move on to Steve. Steve impressed me simply because he's still in one piece for me to rag on him. When one thinks of split second decision making, one should think of Steve. Steve, on his beautiful 67 Triumph TR6 was trying to keep up with Todd Cameron on his 52 or 53 Moto Guzzi. Big mistake muchacho! Anyway, Steve lost it on an inside mountain curve coming back from Canebrake. Apparently Steve lost his line and drifted into oncoming traffic on the tight curve. The oncoming traffic was a motorcycle and car as I understand. Split Second Steve, or SSS now had to make a decision what he preferred hitting, the motorcycle, the car or the big, bad side of the mountain to his left. Remember we're in America and we drive on the RIGHT. Steve was riding a British bike, but I say it should still abide by the rules of the road here in America and stay
to the right. Unfortunately Steve was way past "the right thing to do" by this time. Steve closed his eyes, shouted out a prayer for forgiveness for his past transgressions (a televangelist would envy) and said hello to Mr. Mountain. Somehow Steve avoided hitting anything substantial which included the bike, the car, the mountain and big rocks. He didn't even fall. Bob Bakker and Jimmy Swaggart would be well advised to take lessons in praying for forgiveness from Steve. I was (sort of) following Steve and Todd on my pimp mobile VW trike with the lovely Mrs. Cameron on the rear seat when I witnessed the off-road adventure. Steve was really cool about the whole thing and aside from the size of his eyes, he looked unimpressed with his brush with the hereafter.
Onto Ron Stevens. I do not have personal knowledge of this event, but my confidential source, Tom Lovejoy, swears by it. I say this can't be true, but it is not my place to question the truthfulness of events related to me in strict confidence. Nor will I ever reveal my source. It was reported to me that Ron somehow lost his trailer while driving to Borrego in his motor home which happens to be the size of Kansas. The trailer in question was discovered no longer attached to said motor home when Ron arrived for the grand event. Said trailer was later retrieved at a tow yard when found abandoned on the highway with minor damage. I'm flabbergasted to say the least. Ron...tell me it ain't so. I leave the rest to your imagination.
Thanks to Tom Lovejoy and Steve Sorensen (and wife) for driving all the way out there just to cook lunch at Canebrake for us knuckleheads and flatheads due to the last minute loss of a caterer. And injured Rich Coffin and wife for helping out with the registration set up and trouble trucking.
30th annual Max Bubeck Memorial Road Run!
Photos from the run can be found here.
October 9-11, 2016. Report by: Lon Bubeck. The 2016 Death Valley run took place over the 9th , 10th and 11th of October. The ride headquarters were at the historic Furnace Creek Ranch and it was fun to be back there once again. Once again we had great weather, sunny skies, warm with only light winds. There were about 20 riders this year, a significant increase from the last couple of years The first days ride was across the valley to Emigrant Pass Rd and then up Wildrose Canyon Rd. to the Charcoal Kilns. Only a few intrepid riders went to the kilns as the final three miles are a rough dirt road. Everyone then returned to Stovepipe Wells for gas and a well-deserved lunch. The rest of the day was taken up by a casual ride back to Furnace Creek and activities around the resort. The second day we went down to Badwater, the lowest spot in the Continental United States. Half the group chose to ride back to Furnace Creek via The Artist's Palate while others chose to continue south to have lunch in Shoshone. In the afternoon the Furnace Creek group took a ride up to Dante's Viewpoint where they met up with the riders that went to Shoshone. That evening we had the traditional outdoor BBQ banquet at the ranch with everyone receiving a personalized Certificate of Participation. It was a wonderful event and we look forward to this year's run being even better.
2016 Tour of the Santa Monica Mountains
August 13, 2016 - 25th annual Santa Monica run. Co-presented by SoCal AMCA and AMCA Los Angeles Chapter. At the 25th annual Santa Monica mountains run, we had about 15 bikes including Grace Mckean who rode down off the mountain, and Kiwi Mike and Carolyn Tomas, Craig Taylor, president of the Los Angeles AMCA Chapter, coming from the inland empire! The mountains were the same, but every year we pick a different route. This time, down curvy steep Tuna Canyon with views of the San Fernando Valley, Malibu and the Los Angeles skyline. Lunch was at the usual Spruzzos in Malibu with a stop off at the Rock Store. Everyone made it back safely and every bike ran good. Good times were had by all!!! See you next year for the 26th annual ride.
Photo Credit: Phillip Shore and Mike Menezes -- Thanks guys!
2016 Borrego Springs Winter Road Run
March 3-6, 2016 - Check out some of the photos from our fabulous long weekend of riding and camaraderie. Also, be sure to to visit the Rider's Blog here to see more photos from the run. Until next year, keep riding. Enjoy this lil trip down memory lane! "I came , I rode, I conga'd!"
Please be patient as the many photos load up on the page. Click on the photo to enlarge it and then right click to save it to your computer. Enjoy!
Annual Brunch at the Newport Beach Yacht Club
January 17, 2016 - Report from Tim Graber, SoCal AMCA President - I borrowed my wife's 29 101 today and took a quick ride up the coast prior to the annual Club brunch. (In the photo, the one parked is hers). I found Lon Bubeck in Seal Beach and turned around to escort him in. We must have been quite the site, two Indian 101's both ridden in Indian patched jackets! Oh yeah, the surf was huge, if you were looking!
DEATH VALLEY "D-V" XXIX Max Bubeck Memorial ROAD RUN
October 1-3, 2015 - A 2-1/2 day Desert Tour of the famous Death Valley National Park. This year's run was once again was headquartered at the Stagecoach Hotel and Casino in Beatty, Nevada. Both days consisted of scenic loops through the natural wonders of Death Valley National Park. Ride Captain Lon Bubeck rode his 1928 Indian 101 Scout, and was joined by participants: Ron Stevens with his Harley sidcar rig; Dennis and Linda Magri with Dennis' Vindian (Vincent motor in an Indian frame); Jim Coe and Tony Groom with two Chiefs; and Peter Leffe riding Lon's almost-vintage 1984 Honda Magna. A couple shots below are from Lon's lunch stop in the southwestern edge of Death Valley to see the Tronas Pinnacles at Searles Lake, a dry lake bed.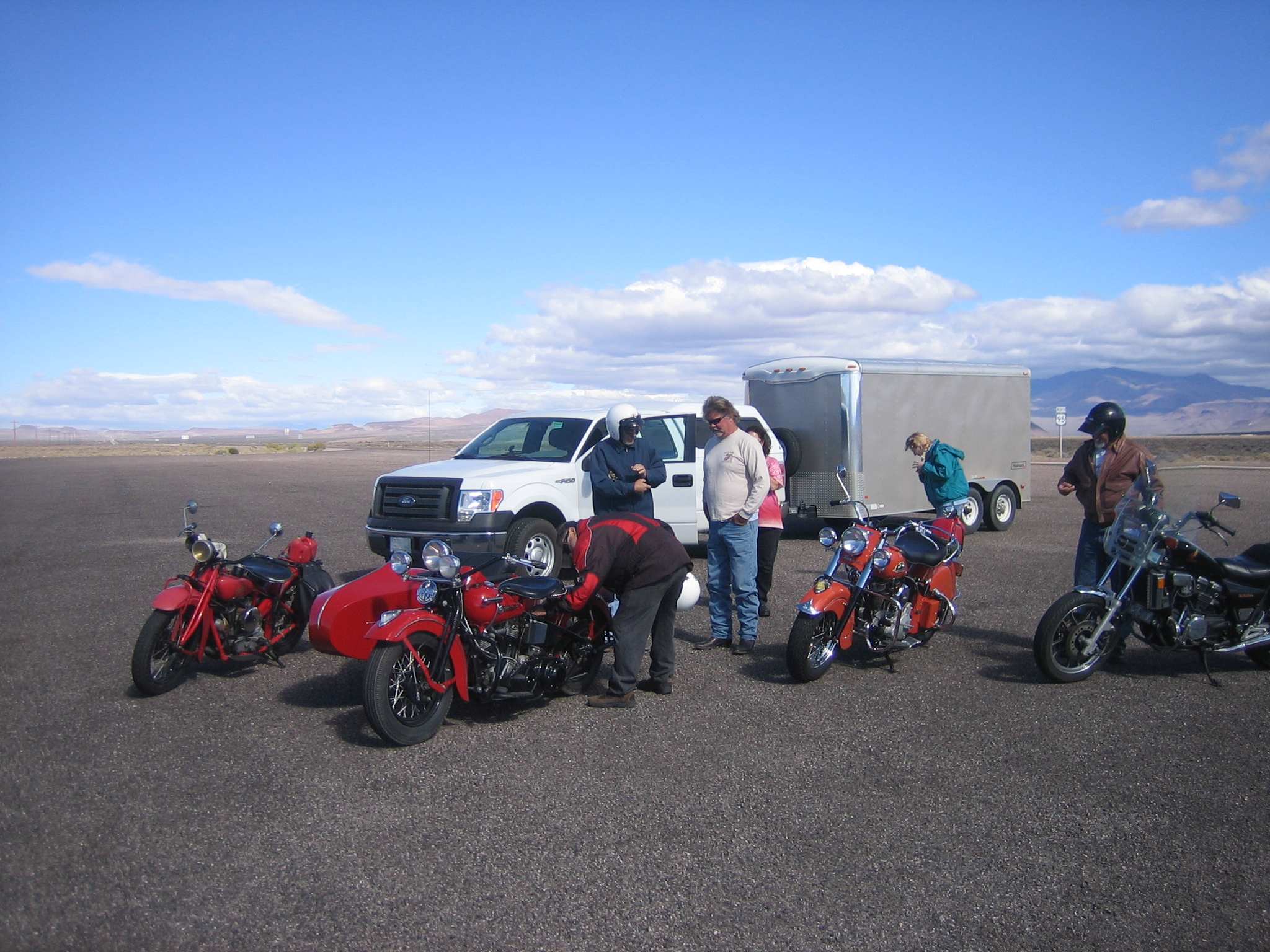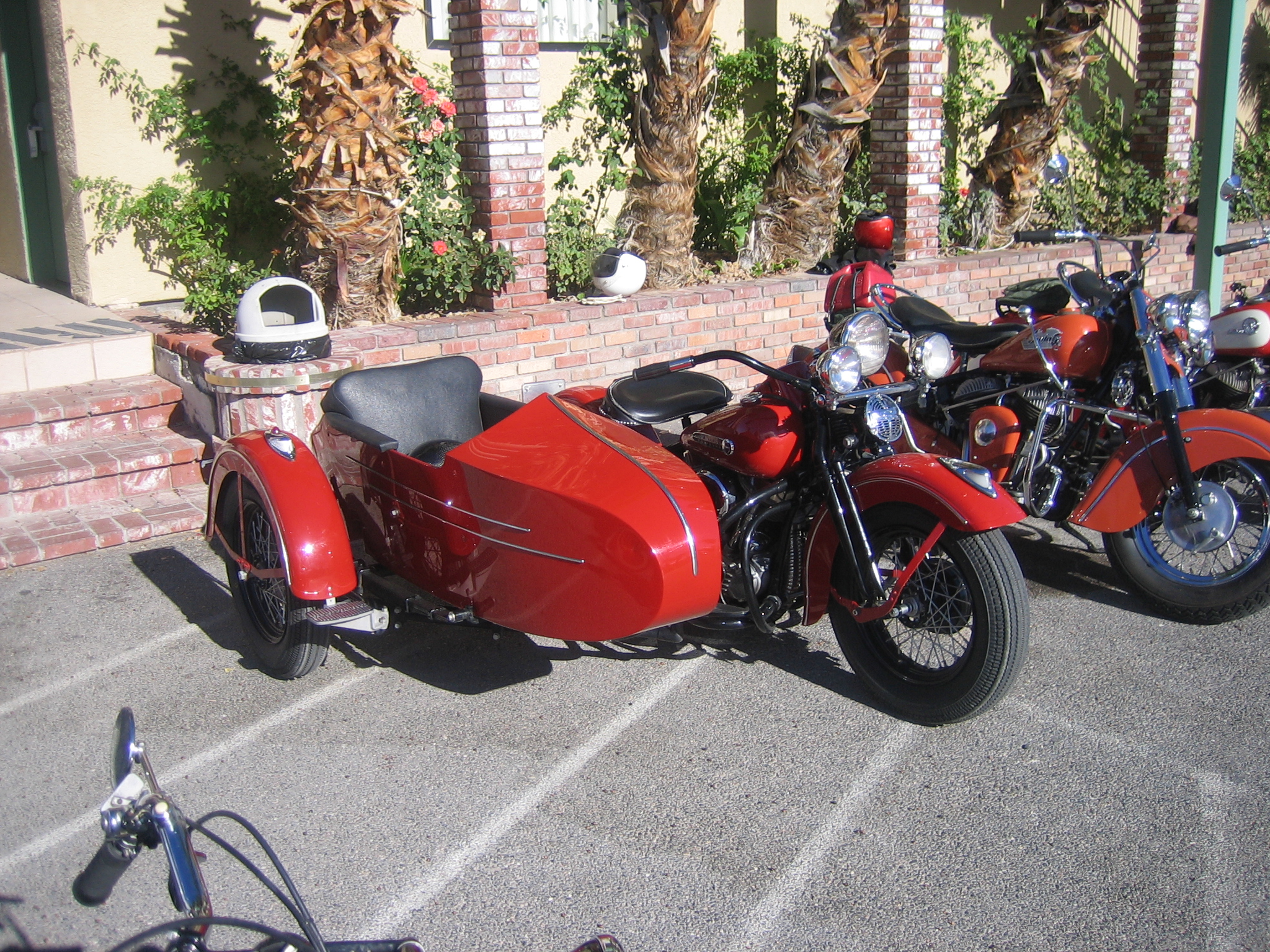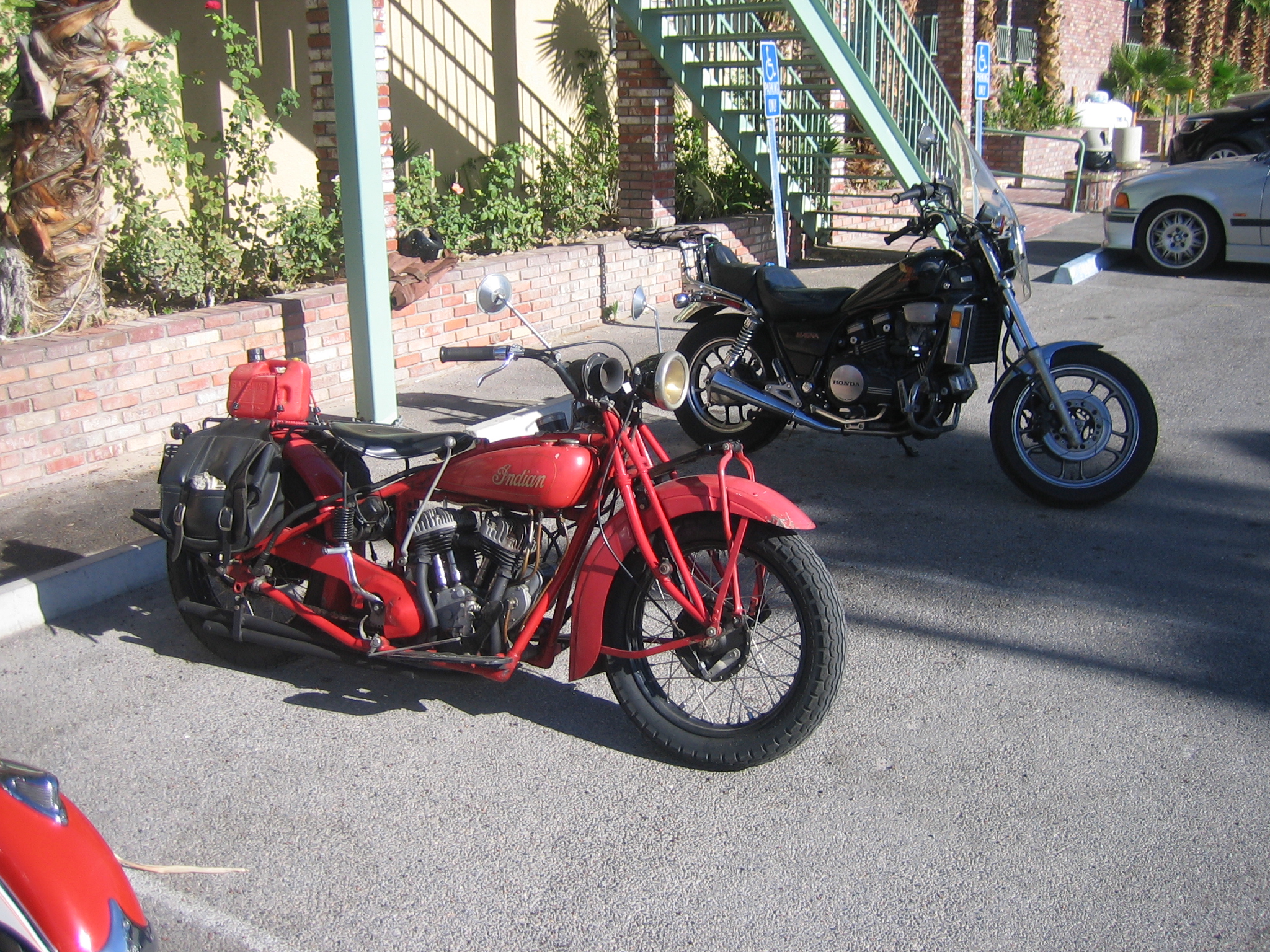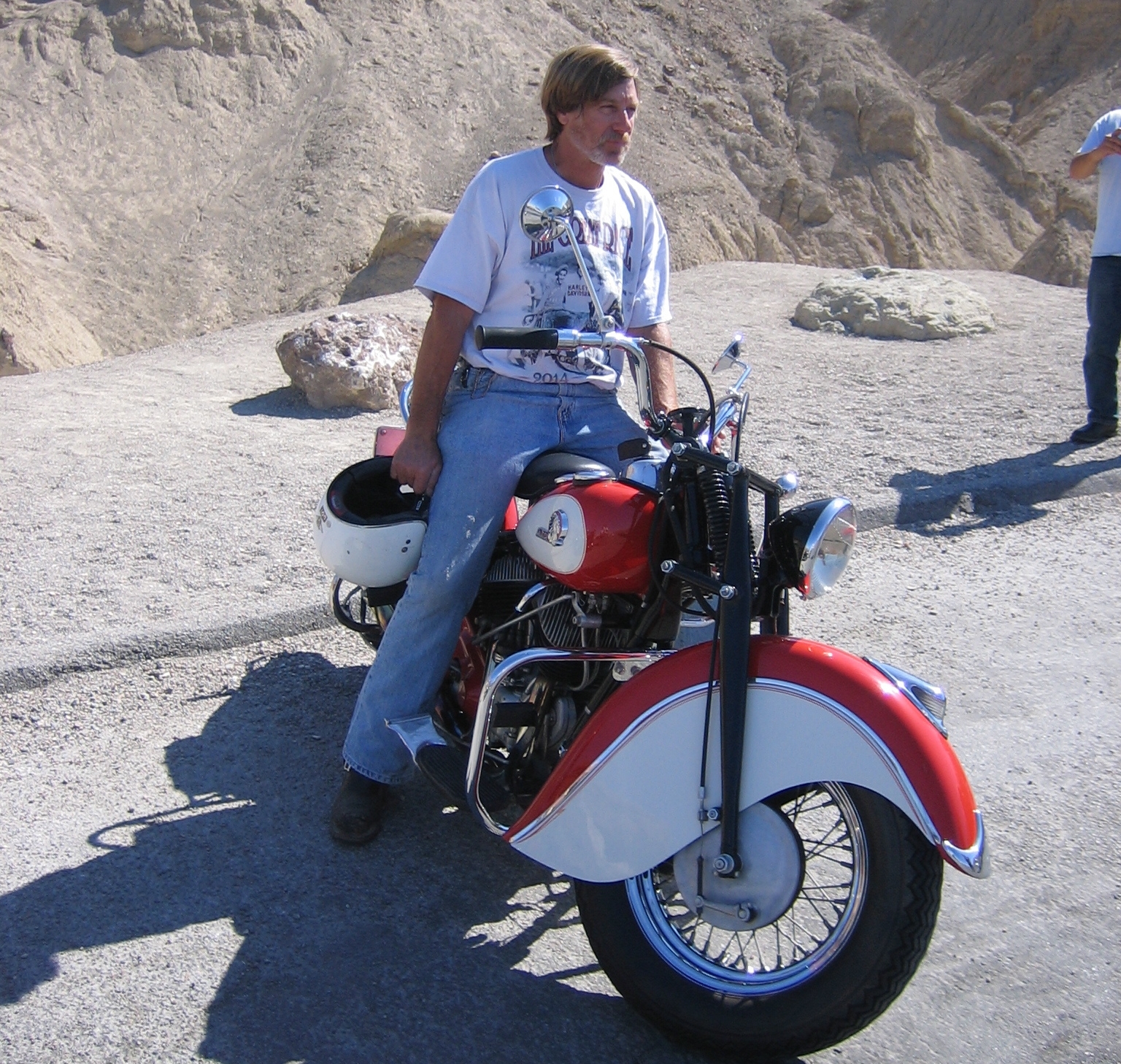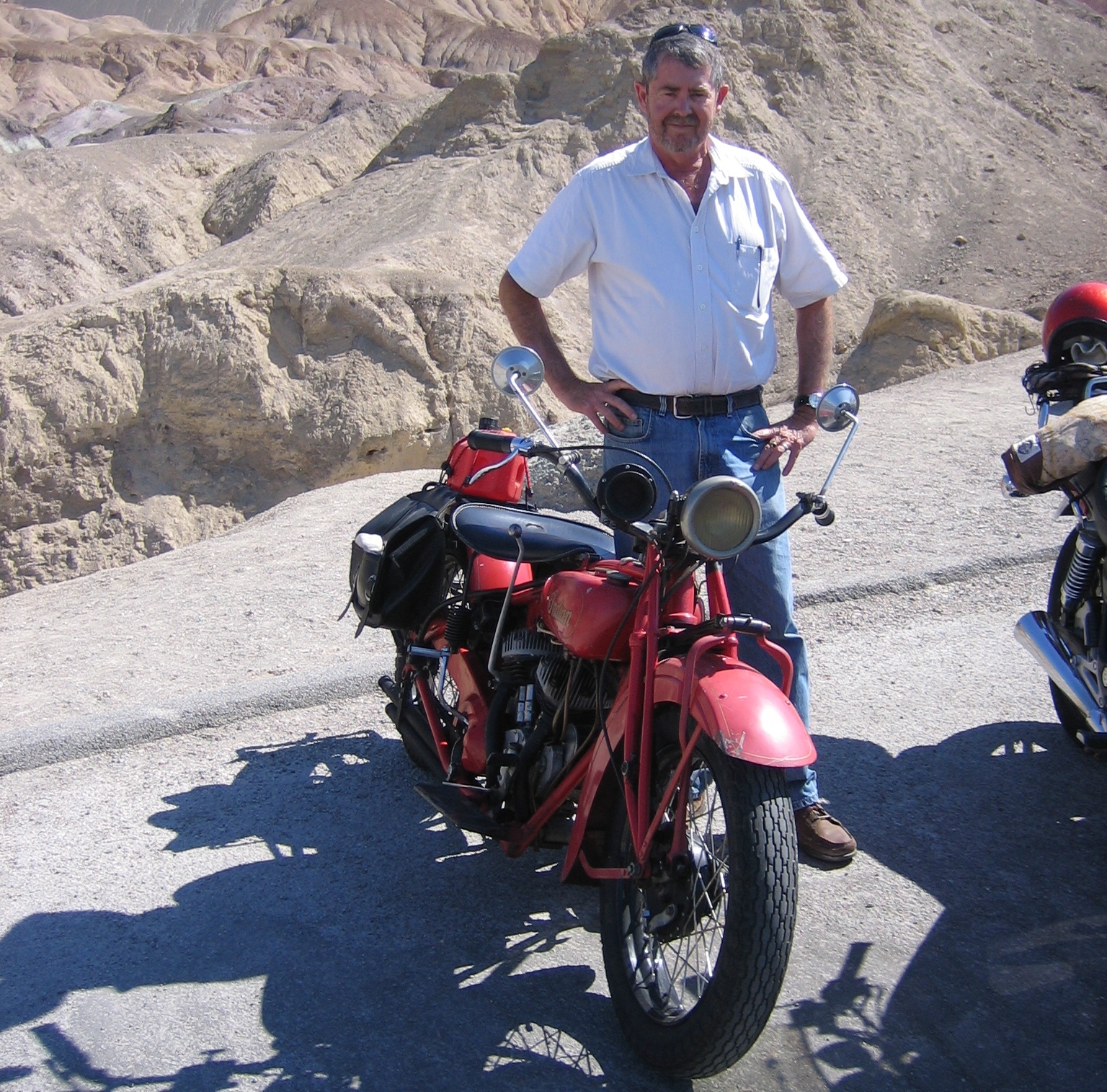 2015 Tour of the Santa Monica Mountains
Co-Presented by the SoCal AMCA and the Los Angeles AMCA chapters.
August 8, 2015 - Wow where have all the years gone? We had the Santa Monica ride last weekend on the 8th of August..I started thinking back and figured out that this was our24th year doing the ride!!....The first Bush was president..Clinton was just elected governer of Arkansas….Silence of the Lambs was the movie of the year. Freddie Mercury, Redd Foxand Michael Landon died that year. The last episode of Dallas and the first episode of Home Improvement!!......We have changed the route a little from year to year, but the mountains and coast have changed very little; still stunningly beautiful!
We had 10 riders and Kelli manned the trouble truck. We took off from Canoga Autobody and headed for the hills via Mulholland Dr. Our first stop was an outlook on the top of Stunt Road called Top Of The World. On one side, views of the entire San Fernando Valley, and the other side, Malibu and the Pacific Ocean. By this time were way up in the Santa Monica Mountains. After bench raceing, the gang headed down to Malibu Canyon Road via Piuma Rd to Pacific Coast highway. Lunch was at the usual Spruzzos where we had a table of 11 waiting. Good food, good company! This is a great resturant we have been going to for several years with views of Zuma beach. After fueling up at Trancus Chevron, we headed up to Neptunes Net and made a right on Yerba Buena. This meanders along the top of the mountains and finally catches up to Mulholland Drive. Certain sections were a little dicey as this road is not heavely traveled at all, with some loose gravel in spots. Soon we found ourselves at the Rock Store for beverages and more bench raceing. It wound up being a great day with cooler weather. Not one bike in the trouble truck despite several Harleys, go figure! The ride was an all-day affair getting back to the shop around 430. Well, see you again next year for the 25th anniversary.
2015 Borrego Springs Winter Road Run
March 5-7, 2015 - Possibly one of the best Borrego Springs Winter Road Runs yet, this event was attended by 90 riders and we had exquisite weather and great roads. Rides included two Crockers, three 1925 Harleys with side cars, three 1929 JDH's and then the regular assortment of exquisite Classic motorcycles. Total mile scheduled for the event: 475. The Borrego Baggets started off the banquet with their special rendition of "Ain't No Mountain High Enough." The banquet was attended by 125 people and a great time was had by all.
2015 Joshua Tree Road Run
May 2015 - We were headquartered this year at the Fairfield Inn. On Friday, we headed to the Palms Bar for some adult beverages and conversation. Great dinner at the Rib Company. Saturday morning the sun was shining brightly, not a cloud in the sky and we all headed for Mecca through Box Canyon and finally to Chiriaco Summit for a very tasty lunch. Sunday was a warm, beautiful ride to Keys View.
2014 Twenty-nine Palms (Joshua Tree) Run
May 2014 - Headquartered at El Rancho Dolores Motel, SoCal AMCA road throughout the weekend, stopping at Keys View and the Oasis of Mara.